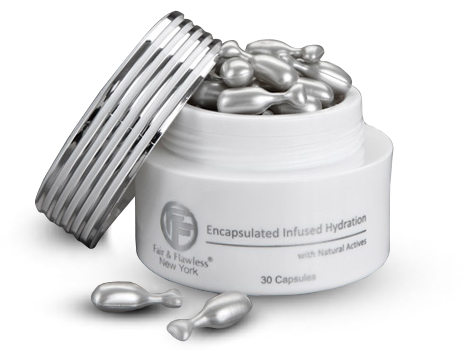 INFUSED HYDRATION
---
Free shipping on orders over $100 USA
F&F Encapsulated Infused Hydration

Results for skin augmentation are comparable to injections without the risk or discomfort.
Your skin has it tough in life. Medicines, sun, hormones, and aging can all have an impact. But with this potent anti-aging treatment that targets dryness, wrinkles, and discoloration brought on by drugs, the sun, or hormones, you may enjoy what you see in the mirror once more. Perfect for aging skin that might use a little more resilience.
This amazing corrective product's contents must be kept in chic one-use capsules to avoid oxidation because they are so eager to combat harmful free radicals. The luxurious product also eliminates hyperpigmentation, including freckles, spots, and melasma patches. Younger volume is increased by collagen. Effective hydration really holds moisture to the skin in a pH balance that is appropriate.
As the active chemicals that remove spots and blotches gradually reduce overall melanin synthesis, a side effect of sustained use is an overall skin lightening or brightness of your natural skin tone. This is what many customers choose, and using Skintrium products for as long as you like is quite safe.
To use:
Apply once daily, right before bed, to clean, dry skin after cleansing and toning. Squeeze the contents of the ampule into the palm of your hand by twisting the ampule's lip off. Massage the skin gently. Top with your preferred Skintrium night cream for the greatest outcomes. You can apply twice daily if you'd like. Ampules should be stored in a tidy, cool, and dark area.
INGREDIENTS
Benzyl Salicylate, Hexyl Cinnamal, BHT, Cyclopentasiloxane, Dimethicone Crosspolymer, Ethythexyl Cocoate, C24-28 Alkyl Methicone, Lecithin, Glycolipids.
How do I know if an item is in stock?
It is, unless it's marked "Sold out."

When will "sold out" items be in stock?
You can email INFO@Skintrium.com to ask about a specific product's expected return.

What precautions do you take with my credit card?
We are completely committed to your online security.
Your payment information goes through Authorize.net, a secure gateway that encrypts your card details to transmit and (if you authorize it) store your personal and credit card information.
We confirm the billing address matches the address on file with your credit card company
If you choose to use MasterCard®, you can also use their SecureCode service with us. This requires that you use a private password every time you make a purchase with us. You will need to first register with the bank or issuing organization; learn more

 

here.
You can also place your order by phone. In the US, call 212-274-8850 toll free. From outside the US, call 1+516-620-4210.
Do you share my information?
No. We do not and will not rent or sell your personal information, ever.

Why do I need to re-enter my credit card details when I add a new address?
This is a security precaution. We regret the inconvenience.

How much tax, duties, and shipping will be added?
This is calculated at check out. You will be able to see all the charges before you finalize your purchase. The only exception is duties in Delivery Duty Unpaid countries, which are paid on delivery to the shipping company. See the International Shipping tab for details.

Do I need to set up an account to place an order?
No, you can shop Skintrium without an account. However, making an account is free and easy and makes reordering simpler.

How do I change currency?
It happens automatically. The credit card will calculate your entire order and shipping in US dollars. To see your cost in local currency, use the currency converter.

Can I ship to alternate addresses?
When you add a different shipping address, we will once again need you to fill in your credit card information. You can only do this after the first shipment has been delivered to your billing address.

Is my order insured?
Your order is insured against theft and damage in transit from Skintrium to your address. Once the items are delivered and signed for, they are no longer insured. If your box is damaged on arrival, either refuse the delivery or make a note when signing that you are accepting a damaged box.

Do I have to sign for my shipment?
We ship signature required unless you waive it during checkout for US orders. All international orders require a signature.  Regrettably, no refunds will be issued if shipment is refused at the time of delivery.

Can I change or redirect my order?
Once an order is complete, you will not be able to add to it. We are also unable to change the address for delivery once an order is issued.

Can I ship to multiple addresses?
We can only ship an order to one address. To mail to several addresses, please create several different orders.

Can I ship to a forwarding address?
We do not deliver to forwarding addresses, including Aramex addresses