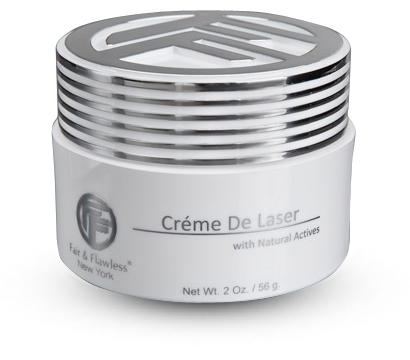 CREME DE LASER
---
Free shipping on orders over $100 USA
ANTI-CELLULITE BODY CREAM
Deeply moisturizing skin renewal for skin over 40. A lotion that hydrates and restores your young glow that lightens the skin more gradually and gently.
Skin gets thinner and more brittle as we get older. Fine wrinkles, blemishes, dark circles, and other damage from the years are visible. While significantly reducing the appearance of deep lines, wrinkles, and skin discoloration, Crème De Laser helps firm and tone the skin. Sepi-White MSHTM, a mild but effective pigmentation reducer, helps stop the formation of new melanin while gradually reducing pigmentation. To nourish and restore your youthful glow, mix deluxe hydration from organic botanical oils with calming components like oat protein. With the concentrated strength of Enhance Facial Lighten Cream and XF15 Exquisite Corrective Gel, you can gradually develop a youthful glow throughout or maintain your new tone after more drastic lightening.

Sunscreen is essential when using this product
Apply twice daily to thoroughly cleanse the skin. Can be used on the face and body. Follow with Stay Flawless Sun Damage Prevention Emulsion.
How do I know if an item is in stock?
It is, unless it's marked "Sold out."

When will "sold out" items be in stock?
You can email INFO@Skintrium.com to ask about a specific product's expected return.

What precautions do you take with my credit card?
We are completely committed to your online security.
Your payment information goes through Authorize.net, a secure gateway that encrypts your card details to transmit and (if you authorize it) store your personal and credit card information.
We confirm the billing address matches the address on file with your credit card company
If you choose to use MasterCard®, you can also use their SecureCode service with us. This requires that you use a private password every time you make a purchase with us. You will need to first register with the bank or issuing organization; learn more

 

here.
You can also place your order by phone. In the US, call 212-274-8850 toll free. From outside the US, call 1+516-620-4210.
Do you share my information?
No. We do not and will not rent or sell your personal information, ever.

Why do I need to re-enter my credit card details when I add a new address?
This is a security precaution. We regret the inconvenience.

How much tax, duties, and shipping will be added?
This is calculated at check out. You will be able to see all the charges before you finalize your purchase. The only exception is duties in Delivery Duty Unpaid countries, which are paid on delivery to the shipping company. See the International Shipping tab for details.

Do I need to set up an account to place an order?
No, you can shop Skintrium without an account. However, making an account is free and easy and makes reordering simpler.

How do I change currency?
It happens automatically. The credit card will calculate your entire order and shipping in US dollars. To see your cost in local currency, use the currency converter.

Can I ship to alternate addresses?
When you add a different shipping address, we will once again need you to fill in your credit card information. You can only do this after the first shipment has been delivered to your billing address.

Is my order insured?
Your order is insured against theft and damage in transit from Skintrium to your address. Once the items are delivered and signed for, they are no longer insured. If your box is damaged on arrival, either refuse the delivery or make a note when signing that you are accepting a damaged box.

Do I have to sign for my shipment?
We ship signature required unless you waive it during checkout for US orders. All international orders require a signature.  Regrettably, no refunds will be issued if shipment is refused at the time of delivery.

Can I change or redirect my order?
Once an order is complete, you will not be able to add to it. We are also unable to change the address for delivery once an order is issued.

Can I ship to multiple addresses?
We can only ship an order to one address. To mail to several addresses, please create several different orders.

Can I ship to a forwarding address?
We do not deliver to forwarding addresses, including Aramex addresses