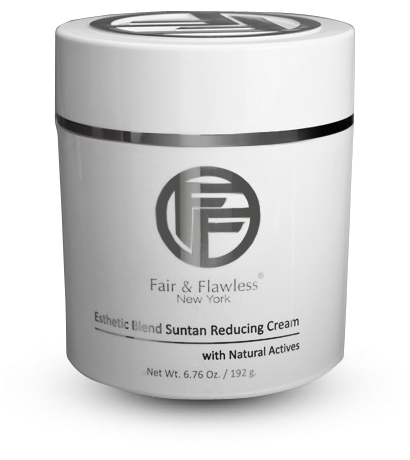 Esthetic Blend Suntan Removal Cream
---
Free shipping on orders over $100 USA
MADE TO MEASURE, SUNTAN REMOVAL CREAM
Reverses sun damage to soften UV-damaged texture and restore and correct skin tone. Even out the tone and texture of sun-damaged skin to correct, lighten, and rejuvenate it. You'll notice smoother, younger-looking skin within days of using this luxurious cream for the first time. To quickly start resurfacing texture, decrease discoloration, and expose the healthy, perfect glow below, highly concentrated active ingredients are exactly pH balanced. Any ashy or overly pigmented regions seem to disappear. Even the elbows and knees develop an attractive suppleness and smoothness.
Blended aesthetic Cream for Tone Restoring & Sun Tan Removal:
This wonderful cream is a sibling of our well-known Fair & Flawless Suntan Removal Cream, but it contains four times as many active ingredients. It will provide you with the spectacular results you aspire for more quickly than you could have imagined.
The active chemicals that remove spots and suntan also gradually reduce overall melanin synthesis, so a side effect of sustained treatment is overall skin lightening or brightening of your natural skin tone. It is entirely safe to use Skintrium products for as long as you like, and many customers prefer it.
To use:
Apply twice daily to all of your body's sun-damaged, darker skin. Make sure to massage up behind the ears and along the hairline using a gentle circular motion (to avoid dark lines where the application ends). Pay close attention to regions with a lot of pigment.
INGREDIENTS
The following ingredients are included in Aqua (Water): Tetrahexyldecyl Ascorbate (Vitamin C Ester), L-Sorbitol Palmitate, L-Tyrosine, Glycolic Acid, Cetearyl Alcohol, Urea, Cylomethicone, Sodium Carboxymethyl, Beta-Glucan, Butylene Glycol Tocopheryl Acetate, Camellia Oleifera (Green Tea) Leaf Extract. Celeareth-20, Dimethicone, Phenoxyethanol, Ethoxydiglycol, Glyceryl Stearate, PEG-100 Stearate, Niacinamide Allantoin, Bisabolol, Citric Acid, Kojic Acid, Dimethyl MEA (DMAE), Avena Sativa (Oat) Protein Extract, Caprylyl Glycol, Rosemary (Rosmarinus officinalis) Leaf Extract, Elaeis guineensis (Palm) Oil, Castor Oil, Tocotrienols, Sepiwhite MSH, Ascorbyl Palmitate (Vitamin C Ester), Zinc Sulfate, Pyridoxine HCI, Pantehine, Sorbic Acid, Disodium EDTA, BHT, Tocopherol, Palmitoyl Oligo
How do I know if an item is in stock?
It is, unless it's marked "Sold out."

When will "sold out" items be in stock?
You can email INFO@Skintrium.com to ask about a specific product's expected return.

What precautions do you take with my credit card?
We are completely committed to your online security.
Your payment information goes through Authorize.net, a secure gateway that encrypts your card details to transmit and (if you authorize it) store your personal and credit card information.
We confirm the billing address matches the address on file with your credit card company
If you choose to use MasterCard®, you can also use their SecureCode service with us. This requires that you use a private password every time you make a purchase with us. You will need to first register with the bank or issuing organization; learn more

 

here.
You can also place your order by phone. In the US, call 212-274-8850 toll free. From outside the US, call 1+516-620-4210.
Do you share my information?
No. We do not and will not rent or sell your personal information, ever.

Why do I need to re-enter my credit card details when I add a new address?
This is a security precaution. We regret the inconvenience.

How much tax, duties, and shipping will be added?
This is calculated at check out. You will be able to see all the charges before you finalize your purchase. The only exception is duties in Delivery Duty Unpaid countries, which are paid on delivery to the shipping company. See the International Shipping tab for details.

Do I need to set up an account to place an order?
No, you can shop Skintrium without an account. However, making an account is free and easy and makes reordering simpler.

How do I change currency?
It happens automatically. The credit card will calculate your entire order and shipping in US dollars. To see your cost in local currency, use the currency converter.

Can I ship to alternate addresses?
When you add a different shipping address, we will once again need you to fill in your credit card information. You can only do this after the first shipment has been delivered to your billing address.

Is my order insured?
Your order is insured against theft and damage in transit from Skintrium to your address. Once the items are delivered and signed for, they are no longer insured. If your box is damaged on arrival, either refuse the delivery or make a note when signing that you are accepting a damaged box.

Do I have to sign for my shipment?
We ship signature required unless you waive it during checkout for US orders. All international orders require a signature.  Regrettably, no refunds will be issued if shipment is refused at the time of delivery.

Can I change or redirect my order?
Once an order is complete, you will not be able to add to it. We are also unable to change the address for delivery once an order is issued.

Can I ship to multiple addresses?
We can only ship an order to one address. To mail to several addresses, please create several different orders.

Can I ship to a forwarding address?
We do not deliver to forwarding addresses, including Aramex addresses